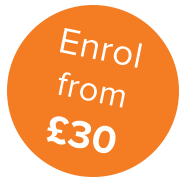 Nutritional Therapy
Level: Practitioner QLS level 3
By successfully completing this course, you will:
Gain skills and knowledge to practice Nutritional Therapy – graduates of this course can also obtain professional liability insurance
Receive the Certificate of Achievement at QLS Level 3*
Become a Registered BSY Nutritional Therapy Practitioner
Be awarded the professional BSY Diploma
Be eligible to become a member of AHCP (Association of Complementary Practitioners)
You can study this course from the comfort of your own home; in your own time and at your own pace; with helpful support and encouragement from our friendly tutors.
Course overview
Diet has the distinction of being the only major determinant of health that is completely under your control. This course aims to educate you as to the healing and life enhancing properties of natural foods and to the intelligent use of food supplements. Nutritional therapy is both preventative and curative once its principles have been adapted and applied to an individual's lifestyle. It is recommended that this course is used in conjunction with the BSY Nutrition course or Nutrition and Weight Consultancy course.
Syllabus
Practical training
No practical training is required to complete this course.