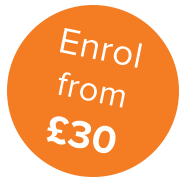 Nutrition (Scientific Approach)
Level: Practitioner QLS level 4
By successfully completing this course, you will:
Gain skills and knowledge to practice Nutrition (Scientific Approach) – graduates of this course can also obtain professional liability insurance
Receive the Certificate of Achievement at QLS Level 4*
Become a Registered BSY Nutrition (Scientific Approach) Practitioner
Be awarded the professional BSY Diploma
Be eligible to become a member of AHCP (Association of Complementary Practitioners)
(OCN Level 4 award also available with 14 national educational credits**)
You can study this course from the comfort of your own home; in your own time and at your own pace; with helpful support and encouragement from our friendly tutors.
Course overview
'You are what you eat' is a familiar statement nowadays and most people have come to recognise that whatever we eat or do not eat has a major impact on our health.
But that is not the whole story. Research into nutrigenomics has revealed that nutrition and lifestyle can determine which genetically susceptible individual will be affected by specific diseases and which will not. Many diseases can be prevented or reversed if appropriate measures are implemented. How to achieve this is one of the major challenges for healthcare professionals as well as for the government.
From a nutritional perspective, the bioavailability of nutrients is as important as consuming a healthy diet — in other words, absorption of nutrients depends on how we consume our food, how we cook it, whether we eat it raw and which nutrients that food is rich in. For example, iron from a vegetarian diet is better absorbed and utilised by the body if vitamin C is taken at the same time.
Syllabus
Practical training
No practical training is required to complete this course.