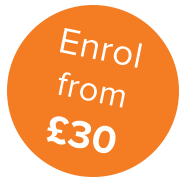 Yoga for Mums
Level: Professional Development/Personal Achievement
By successfully completing this course, you will:
Gain skills and knowledge to expand an existing practice, as a foundation qualification towards further studies, or for personal interest
Be awarded the BSY Professional Certificate of Merit
Receive the Certificate of Achievement at QLS Level 3*
You can study this course from the comfort of your own home; in your own time and at your own pace; with helpful support and encouragement from our friendly tutors.
Course overview
On becoming a mother your life can change dramatically. Yoga will help you adjust to the changes which motherhood brings, whether you gave birth, adopted or fostered. It creates a space to be, breathe and accept, to relax, let off steam and find balance. It helps the body find its natural harmony, when ready, after pregnancy and childbirth.
This course suggests yoga activities to practise after childbirth and beyond, alone and with your child, using breath, movement and meditation. It is suitable whatever your situation or experience, as you will benefit from taking time for yourself and from being with your child in a playful, meditative and loving way. It is also useful for those wishing to expand their existing teaching practice.
Syllabus
Practical training
No practical training is required to complete this course.