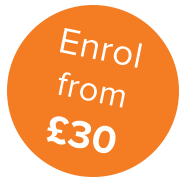 Understanding & Managing Dyslexia
Level: Practitioner QLS level 3
By successfully completing this course, you will:
Gain skills and knowledge to practice Understanding & Managing Dyslexia – graduates of this course can also obtain professional liability insurance
Receive the Certificate of Achievement at QLS Level 3*
Become a Registered BSY Understanding & Managing Dyslexia Practitioner
Be awarded the professional BSY Diploma
Be eligible to become a member of AHCP (Association of Complementary Practitioners)
You can study this course from the comfort of your own home; in your own time and at your own pace; with helpful support and encouragement from our friendly tutors.
Course overview
Dyslexia literally means difficulty with words, and this can cover reading, writing, spelling and any other aspects of language. It is not simply a reading failure. In fact, dyslexia is a three-fold problem with the person having difficulty with organising and memory as well as word-finding, but IQ is often high.  This course looks at the cognitive and behavioural problems faced by the dyslexic and his family, carers and teacher.  Paramount, of course, is early and accurate assessment, and you will learn that the assessment process is dynamic and requires more than basic testing.  This course is ideal for teachers, parents and carers of those who have been diagnosed with dyslexia and those who are exhibiting possible symptoms. It provides a rich source of information together with practical suggestions for management of this very complicated disorder.
Syllabus
Practical training
No practical training is required to complete this course.