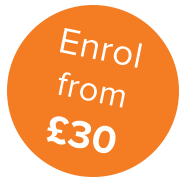 Transactional Analysis
By successfully completing this course, you could;
Gain skills and knowledge in Transactional Analysis
Be awarded the BSY Professional Certificate of Merit
Receive the Certificate of Achievement at QLS Level 3*
You can study this course from the comfort of your own home; in your own time and at your own pace; with helpful support and encouragement from our friendly tutors.
Course overview
Transactional Analysis (TA) in its theoretical form describes how an individual's psyche is structured, its most well known model being the ego state (Parent-Adult-Child) model. It is often thought that TA can only be used in relationship or parent/child contexts but this is not the case.  The TA model seeks to explain how individuals function and express personality and behaviour characteristics.  TA is now widely used across diverse contexts and in stand-alone and integrated therapeutic approaches.
As TA is a theory of personality and communication it can be applied in organisational settings and child development or educational contexts. It is also a practical therapeutic tool for the diagnosis of many psychological disorders, providing a method of therapeutic intervention, an example being to free individuals from negative patterns of behaviour or thought.
Syllabus
Practical training
No practical training is required to complete this course.