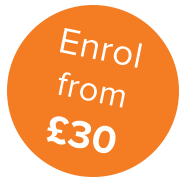 Rebirthing: A Course in Prenatal and Perinatal Psychotherapy
Level: Professional Development – QLS Level 3
By successfully completing this course, you will:
Gain skills and knowledge in Rebirthing to expand an existing practice, as a foundation qualification towards further studies, or for personal interest
Be awarded the BSY Professional Certificate of Merit
Receive the Certificate of Achievement at QLS Level 3*
Be eligible to become a member of AHCP (Association of Complementary Practitioners)
You can study this course from the comfort of your own home; in your own time and at your own pace; with helpful support and encouragement from our friendly tutors.
Course overview
There is a school of thought that believes that prenatal and perinatal events have enormous impact on our lives.  This course explores fundamental traumas from very early in life that often lead to disturbed and disturbing relationships which can sometimes involve violence and abuse.
The course is designed for qualified counsellors and psychotherapists who wish to add these particular specialised skills to their portfolio.  It gives guidance on how a therapist can help the client regress to relive prenatal and perinatal events, leading to a resolution of the repressed trauma material and the expansion of human potential and creative intelligence.
Syllabus
Practical training
No practical training is required to complete this course.