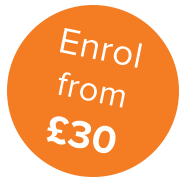 Stress Consultant (Professional)
Level: Practitioner QLS level 3
By successfully completing this course, you will:
Gain skills and knowledge to become a Professional Stress Consultant – graduates of this course can also obtain professional liability insurance
Receive the Certificate of Achievement at QLS Level 3*
Become a Registered BSY Professional Stress Consultant Practitioner
Be awarded the professional ASC Diploma
Be eligible to become a member of AHCP (Association of Complementary Practitioners)
You can study this course from the comfort of your own home; in your own time and at your own pace; with helpful support and encouragement from our friendly tutors. There is also an optional 2 days of practical training available for this course.
Course overview
This course is designed for those with no prior training, and covers a vast spectrum of stress related problems and their treatments. It provides an analysis of the root cause of these problems in a structured format and explains the various treatments available and the techniques that can be applied. Students who wish to further their training in this field may progress to the Advanced Stress Consultants course.
Syllabus
Practical training
Optional 2 days of Practical Training are available for this course. Practical workshops can be held in various locations around the UK and are available for an additional fee of £75 per day. Your practical training is a valuable opportunity to learn directly from an experienced practical training tutor with specialist skills.