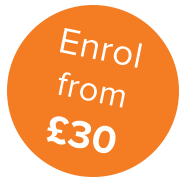 N.L.P Life Skills Coaching
Level: Practitioner QLS level 3
By successfully completing this course, you will:
Gain skills and knowledge to practice N.L.P Life Skills Coaching – graduates of this course can also obtain professional liability insurance
Receive the Certificate of Achievement at QLS Level 3*
Become a Registered BSY N.L.P Life Skills Coach
Be awarded the professional ASC Diploma
Be eligible to become a member of AHCP (Association of Complementary Practitioners)
You can study this course from the comfort of your own home; in your own time and at your own pace; with helpful support and encouragement from our friendly tutors.
Course overview
Human nature means that we all have a range of aims and goals in life – we want to be happy, healthy, to love and be loved, and so on.  Unfortunately, most of us don't reach our goals because we don't plan and we simply go with the flow of life – good or bad. The purpose of a life skills coach is to facilitate change within individuals encouraging clients to become no-limits thinkers who believe everything is possible. Using Neuro-Linguistic Programming (NLP), this course will enable you to acquire a complete toolkit so you can offer life-changing coaching in every aspect of life.
Syllabus
Practical training
No practical training is required to complete this course.