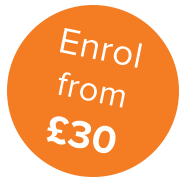 Neuro-Linguistic Programming (N.L.P)
Level: Practitioner QLS level 3
By successfully completing this course, you will:
Gain skills and knowledge to practice Neuro-Linguistic Programming – graduates of this course can also obtain professional liability insurance
Receive the Certificate of Achievement at QLS Level 3*
Become a Registered BSY Neuro-Linguistic Programming Practitioner
Be awarded the professional ASC Diploma
Be eligible to become a member of AHCP (Association of Complementary Practitioners)
You can study this course from the comfort of your own home; in your own time and at your own pace; with helpful support and encouragement from our friendly tutors.
Course overview
N.L.P. is the study of human excellence. Often described as 'software for your brain', it allows you to automatically tap into the kinds of experiences you want to have, create your own future and gain mastery over your emotions.  With this course you too can experience that power and go on to use it not only in your own life but in the lives of others who share your desire to free themselves from negative thought patterns and restricted lifestyles. N.L.P. will quite literally change your life.
Syllabus
Practical training
No practical training is required to complete this course.