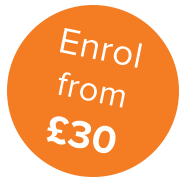 NCFE Level 3 Certificate in Personal Training
Qualification reference: RQF 500/8526/8
Level: NCFE CACHE Level 3
By successfully completing this course, you will:
Gain skills and knowledge to work for a gym or become a freelance personal trainer
Be awarded the NCFE Level 3 Certificate in Personal Training* – a nationally recognised qualification, regulated by Ofqual in England
Be able to join CIMSPA
This course is currently being updated and will be available shortly
You can study this course from the comfort of your own home; in your own time and at your own pace; with helpful support and encouragement from our friendly tutors.
Course overview
This course is ideal for those in the exercise and fitness sector who wish to complement their existing skills.
As a personal trainer, you will be able to work with individuals or small groups, setting targets for your clients, creating specialised personal training programmes and supporting them to achieve results. You can:
Educate, motivate and coach clients to help them follow their programmes safely and effectively
Give clients advice on health, nutrition and lifestyle changes
Create and guide clients through tailored workouts
Check and record clients' progress
You can earn money from your enjoyment of health and fitness, and meet and work with a wide variety of interesting people.
Syllabus
Practical training
To gain the NCFE Level 3 qualification, you will need to successfully:
Complete assessments at the end of each unit to create a portfolio of work.
Submit recorded practical sessions (for example, in DVD format) where you plan and train a client, and demonstrating the required competences for creating personal training programmes. A qualified person will need to be present during the training session.