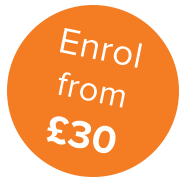 Metabolic Transformation Coaching
Professional Development
By successfully completing this course, you will:
Gain skills and knowledge in Metabolic Transformation Coaching as a foundation qualification towards further studies, or for personal interest
Be awarded the BSY Professional Certificate of Merit
Receive the Certificate of Achievement at QLS Level 3*
You can study this course from the comfort of your own home; in your own time and at your own pace; with helpful support and encouragement from our friendly tutors.
Course overview
Metabolic transformation coaching is the use of scientific exercise methods to increase a client's metabolic rate, often with dramatic results. This course is designed to build on your knowledge as a Personal Trainer to enable you to work within the lucrative 'transformation' market. The course covers fundamental training methods and strategies that can be used to create highly effective training programmes for one-to-one and group training. You will gain an understanding of the physiological, psychological and nutritional elements of long-term metabolic programming, giving you the knowledge and confidence to deliver successful transformation programmes.
Syllabus
Practical training
A 2-hour online practical assessment is available and is essential for students without a Level 3 or above Personal Training qualification.