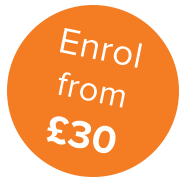 Hypnotherapy (Curative)
Level: Practitioner QLS level 3
By successfully completing this course, you will:
Gain skills and knowledge to practice Curative Hypnotherapy – graduates of this course can also obtain professional liability insurance
Receive the Certificate of Achievement at QLS Level 3*
Become a Registered BSY Curative Hypnotherapy Practitioner
Be awarded the professional BSY Diploma
Be eligible to become a member of AHCP (Association of Complementary Practitioners)
You can study this course from the comfort of your own home; in your own time and at your own pace; with helpful support and encouragement from our friendly tutors. There is also an essential 1 day of practical training for this course.
Course overview
Curative hypnosis is proving to be of very great value in therapeutic work and there are continually fresh reports of successful cures being achieved by the use of hypnotic treatment, in many cases when all other methods of treatment have failed. The scope of hypnotic treatment is almost limitless and its effectiveness in the treatment of phobias, traumas, fears and anxieties of all kinds, cannot be over-exaggerated. Hypnosis gives a sense of well-being and reinforces the will to achieve our goals. A wonderful therapy to use in an endless number of ways.
Syllabus
Practical training
1 day of Practical Training is essential for this course. For further information please call us on Freephone 0800 731 9271 or 01409 220 400. Your practical training is a valuable opportunity to learn directly from an experienced practical training tutor with specialist skills.