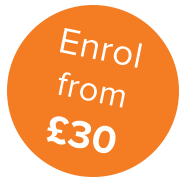 Health & Personal Development
Level: Professional Development/Personal Achievement
By successfully completing this course, you will:
Gain skills and knowledge to expand an existing practice, as a foundation qualification towards further studies, or for personal interest
Be awarded the BSY Professional Certificate of Merit
You can study this course from the comfort of your own home; in your own time and at your own pace; with helpful support and encouragement from our friendly tutors.
Course overview
It is the 'unlearning' of negative attitudes and prejudice that society places on the individual that frees him to pursue his dreams and goals without fear or inhibition.  This course aims to help you regain control of your life and health. By following the guidelines contained in each lesson you will be given the keys to achieving your goals in life and go on to help others to achieve theirs. Presented as a 'one to one' coach and pupil experience, the lessons are immediately applicable to daily life and you are encouraged to go on seeking knowledge as part of a continuing process of personal development.
Syllabus
Practical training
No practical training is required to complete this course.