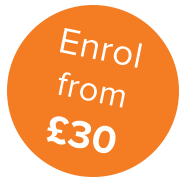 Eating Disorders Part 1
By successfully completing this course, you will:
Gain a better understanding of Eating Disorders
Be awarded the BSY Professional Certificate of Merit
Receive the Certificate of Achievement at QLS Level 3*
You can study this course from the comfort of your own home; in your own time and at your own pace; with helpful support and encouragement from our friendly tutors.
Course overview
An understanding of the true nature of eating disorders brings a clearer perception of what is needed by both the unfortunate sufferer and by the forgotten victims, the family and loved ones, who are also trying to cope with the effects of the disorder.  Part 1 examines the background to eating disorders, including risk/predisposition, physical effects and behaviour. It looks at some research and case studies, and examines Anorexia Nervosa in more detail. The anatomy and physiology of the main systems of the body is included. It is essential that you progress to Eating Disorders Part 2 to complete your studies to practitioner level.
Syllabus
Practical training
No practical training is required to complete this course.