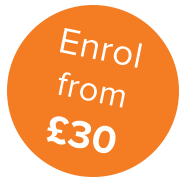 Crisis and Trauma Counselling
Level: Practitioner QLS level 3
By successfully completing this course, you will:
Gain skills and knowledge to practice Crisis and Trauma Counselling – graduates of this course can also obtain professional liability insurance
Receive the Certificate of Achievement at QLS Level 3*
Become a Registered BSY Crisis and Trauma Counselling Practitioner
Be awarded the professional ASC Diploma
Be eligible to become a member of AHCP (Association of Complementary Practitioners)
You can study this course from the comfort of your own home; in your own time and at your own pace; with helpful support and encouragement from our friendly tutors.
Course overview
Crisis and trauma counselling is growing in popularity to help individuals cope with stressful events in their lives. It is also a specialty that is used in many organisational settings such as healthcare and emergency services, corporate organisations and education.  Crises and traumatic events are not limited to major incidents, disasters or fatal outcomes; but encompass ordinary everyday events in life. Therefore a crisis might be an event that one individual cannot cope with, yet another can. This makes crisis and trauma counselling diverse and dynamic. Furthermore the immediacy of media coverage on major disasters and incidents leads to the situation where those needing counselling support extend well beyond the immediate victims.
This course is aimed at those who are already in a counselling role but wish to develop their professional knowledge and widen their practice scope; for those who may be involved in a voluntary role within groups or organisations who specialise in crisis and trauma victim support, or for those with a keen interest in the subject and who wish to expand their current understanding.
Successful completion will allow practising counsellors to widen their client base and gain insight into the theory of crisis and how crises develop. It may also facilitate access to voluntary and support roles, demonstrating knowledge gained which can then be developed and translated into practical applications and skills; or it may allow those already in an organisational role to expand their responsibilities and become involved in a support team.
Syllabus
Practical training
No practical training is required to complete this course.