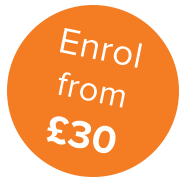 Criminology
Level: Professional Development – QLS Level 3
By successfully completing this course, you will:
Gain skills and knowledge in Criminology to expand an existing practice, as a foundation qualification towards further studies, or for personal interest
Be awarded the BSY Professional Certificate of Merit
Receive the Certificate of Achievement at QLS Level 3*
Be eligible to become a member of AHCP (Association of Complementary Practitioners)
You can study this course from the comfort of your own home; in your own time and at your own pace; with helpful support and encouragement from our friendly tutors.
Course overview
'A criminologist' is one whose professional training, occupational role and reward are concentrated towards a scientific approach, study and analysis of the phenomena of crime and criminal behaviour'. – Wolfgang 1963.
Why do people study crime and criminal behaviour?  There are a variety of answers built around the anxiety and fear responses to crime, the desire to predict and control crime, the hope of preventing crime and the simple desire to learn more about crime and what it can tell us about the society we live in.
Syllabus
Practical training
No practical training is required to complete this course.