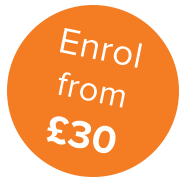 Counselling Skills (Basic) Part 1
By successfully completing this course, you will:
Receive the Certificate of Achievement at QLS Level 2*
Be awarded the BSY Professional Certificate of Merit
You can study this course from the comfort of your own home; in your own time and at your own pace; with helpful support and encouragement from our friendly tutors.
Course overview
There are times in our lives when we experience distressing events and feelings which seem to have no end or solution. Sometimes we know that our feelings are due to particular circumstances. At other times we may have no idea what is making us feel the way we do.  Counselling can help people clarify their thoughts and feelings to arrive at their own decisions, or even make major changes in their lives.
Syllabus
Practical training
No practical training is required to complete this course.