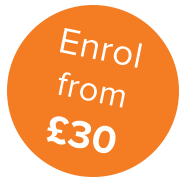 Clinical Personal Fitness Trainer
Level: Practitioner QLS level 3
By successfully completing this course, you will:
Gain skills and knowledge to become a Clinical Personal Fitness Trainer – graduates of this course can also obtain professional liability insurance
Receive the Certificate of Achievement at QLS Level 3*
Become a Registered BSY Clinical Personal Fitness Trainer
Be awarded the professional BSY Diploma
Be eligible to become a member of AHCP (Association of Complementary Practitioners)
You can study this course from the comfort of your own home; in your own time and at your own pace; with helpful support and encouragement from our friendly tutors. There is also an essential 1 day of practical training for this course.
Course overview
The danger for most of us is not that we might exercise too hard, but that we do no exercise at all.  More than 60 per cent of us are overweight, 25 per cent are obese and physical activity may be further compromised by disease or infirmity. In this case exercise takes on an even greater importance. Clinical personal fitness trainers are the consultants of the fitness world; they deal with special problems related to lifestyle, preventative healthcare and exercise.  This course is designed for those fitness trainers who not only want to help the able-bodied but also those with disabilities such as obesity, arthritis, diabetes and cardiovascular disease in order to enable them to achieve maximum fitness and wellbeing.
Syllabus
Practical training
1 day of Practical Training is essential for this course. For further information please call us on Freephone 0800 731 9271 or 01409 220 400. Your practical training is a valuable opportunity to learn directly from an experienced practical training tutor with specialist skills.