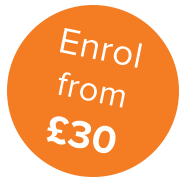 Art – Its Place in Therapy
Level: Professional Development
By successfully completing this course, you will:
Gain skills and knowledge in Art – Its Place in Therapy to expand an existing practice, as a foundation qualification towards further studies, or for personal interest
Be awarded the BSY Professional Certificate of Merit
Be eligible to become a member of AHCP (Association of Complementary Practitioners)
You can study this course from the comfort of your own home; in your own time and at your own pace; with helpful support and encouragement from our friendly tutors.
Course overview
The use of Art in Therapy is based on the belief that the creative process involved in the making of art is healing and life-enhancing.  It can be used therapeutically to aid communication, break down barriers, help with confusion and bring individuals out of themselves.  Art in Therapy is designed to encourage the client to use materials to 'speak' about issues of concern where the individual does not know how to put their emotions and issues into words. It can be used as a form of relaxation, as an outlet for everyday anxiety or to treat serious mental health concerns. It is particularly relevant to those in childcare, healthcare, complementary therapy and similar professions to enable them to understand and implement the therapeutic benefits of art into their personal or working lives.
Syllabus
Practical training
No practical training is required to complete this course.