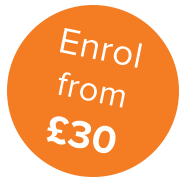 Colour Therapy (Advanced)
Level: Practitioner QLS level 4
By successfully completing this course, you will:
Gain skills and knowledge to practice Advanced Colour Therapy – graduates of this course can also obtain professional liability insurance
Receive the Certificate of Achievement at QLS Level 4*
Become a Registered BSY Advanced Colour Therapy Practitioner
Be awarded the professional BSY Diploma
Be eligible to become a member of AHCP (Association of Complementary Practitioners)
You can study this course from the comfort of your own home; in your own time and at your own pace; with helpful support and encouragement from our friendly tutors.
Course overview
Research has shown that colour can affect us psychologically and physically and the effect is the same even when the client is blindfolded and cannot see the colour. The colour vibrations in the various electromagnetic components of light are absorbed and affect mood, perception and physical well-being to such a degree that it is being used to good effect in hospital recovery rooms, mental health clinics, prisons and places of work. The Colour Therapist works to restore the balance in the body and mind.  This course is designed for both the student who has no previous experience and the therapist who would like to extend their knowledge.
Syllabus
Practical training
No practical training is required to complete this course.