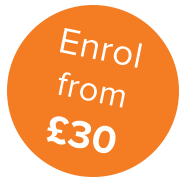 NCFE CACHE Level 2 Certificate in Understanding
Nutrition and Health
Qualification reference: RQF 601/3389/2
Level: NCFE CACHE Level 2
By successfully completing this course, you will:
Gain a range of underpinning knowledge in areas such as healthy eating, nutritional needs, weight management, eating disorders and food safety in the home environment
Be awarded the NCFE CACHE Level 2 Certificate in Understanding Nutrition and Health* – a nationally recognised qualification, regulated by
Ofqual in England
Available to study by any one of the following methods; Paper based, Mixed or Online
You can study this course from the comfort of your own home; in your own time and at your own pace; with helpful support and encouragement from our friendly tutors.
Course overview
Throughout this course you will gain an increased understanding of the principles of healthy eating and the role of food in maintaining health, increased confidence in planning and achieving a healthy diet, and understand how an individual's dietary requirements change throughout their life. You will also learn about food labelling and how to use information from food labels; eating disorders; the role of a healthy diet for weight management and the principles of food safety in a home environment.
Syllabus
Practical training
No practical training is required to complete this course.