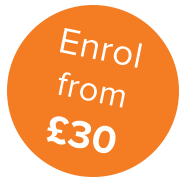 Mindfulness
Level: Professional Development – QLS Level 3
By successfully completing this course, you will:
Gain skills and knowledge in Mindfulness to expand an existing practice, as a foundation qualification towards further studies, or for personal interest
Be awarded the BSY Professional Certificate of Merit
Receive the Certificate of Achievement at QLS Level 3*
Be eligible to become a member of AHCP (Association of Complementary Practitioners)
You can study this course from the comfort of your own home; in your own time and at your own pace; with helpful support and encouragement from our friendly tutors.
Course overview
There are many misconceptions about mindfulness. It is not simply another word for meditation and although its popularity is increasing it is not a fad or a trend; after all it has been around for more than two thousand years. To live a mindful life, practitioners learn to inhabit the moment – this reduces stress and encourages an increased sense of self-awareness so that problems can be challenged and worked through in a calm way.
This foundation course will introduce you to the techniques and core principles of mindfulness. You will learn mindfulness techniques, strategies and routines that can be applied to a variety of contexts for self-development or to share with others.
Syllabus
Practical training
No practical training is required to complete this course.