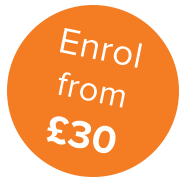 Hypnotherapy (Professional)
Level: Practitioner QLS level 4
By successfully completing this course, you will:
Gain skills and knowledge to practice Professional Hypnotherapy – graduates of this course can also obtain professional liability insurance
Receive the Certificate of Achievement at QLS Level 4*
Become a Registered BSY Professional Hypnotherapist
Be awarded the professional BSY Diploma
Be eligible to become a member of AHCP (Association of Complementary Practitioners)
(OCN Level 4 award also available with 24 national educational credits**)
You can study this course from the comfort of your own home; in your own time and at your own pace; with helpful support and encouragement from our friendly tutors. There are also an essential 2 days of practical training for this course.
Course overview
This course is designed for students who wish to make a career of hypnotherapy. Hypnotherapy seeks to cure at a deeper level of consciousness, bringing about physical or mental changes.  Such changes include healing physical and emotional illnesses, reducing pain, inducing relaxation and gaining insight into present difficulties and past events that may have a bearing on them. Hypnosis is also used as an extremely effective method of stopping smoking, losing weight and dealing with drug and alcohol addictions. This course is a comprehensive training for a uniquely satisfying career.
Syllabus
Practical training
2 days of Practical Training are essential for this course. For further information please call us on Freephone 0800 731 9271 or 01409 220 400. Your practical training is a valuable opportunity to learn directly from an experienced practical training tutor with specialist skills.